Los Angeles to Joplin – Porsche Style, Day 1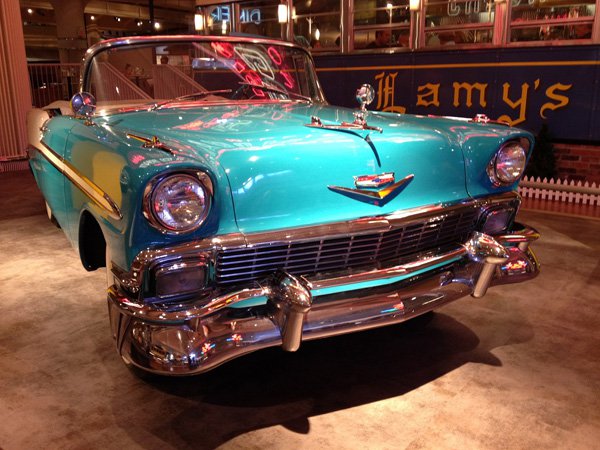 Generally between 1926 and 1964, U.S. Route 60 (US 60) was a major trans-continental federal highway extending from Virginia Beach, Virginia to Los Angeles, California. It has been decommissioned in California and replaced by I-10 from downtown Los Angeles to the Brenda Junction, about 12 miles east of the California/Arizona border. A roughly 18 mile segment of the former U.S. highway is now signed as California State Route 60 between Beaumont and Riverside. However, US 60 is largely intact and serving motorists well outside California.
After leaving the Los Angeles area on Interstate 10, I stopped briefly in Chiriaco Summit (and the George S. Patton Memorial Museum ), Desert Center, and Blythe to see small remaining sections of former US 60. My visits were brief but informative.
Above: This derelict former elementary school in Desert Center, California had been replaced by a larger building elsewhere and was facing an uncertain fate at the time of
my visit. I took this photo from former U.S. Route 60. I-10 is behind the former school building but not visible in this photo.
The Oasis Motel in Blythe was recently purchased and being refurbished. I saw the new owner's work as a positive effort to preserve some of our history. Fortunately, in Blythe and elsewhere, I would see many signs of preservation, and even growth and development, along US 60.
Above: The view here is westbound, toward Los Angeles, on Hobsonway (that's the correct spelling) in Blythe, California. This is the point in Blythe where former U.S. Route 60 crossed U.S. Route 95. From this intersection, Canada is to the right. Mexico is to the left. Joplin, Los Angeles is ahead of me and Missouri is behind me.
The first Arizona community I encountered was Quartzite where old US 60 runs parallel to I-10. Old US 60 looked very much like what I had seen in Desert Center and Blythe. I did not stop in Quartzite on this trip.
Interstate 10 continues eastward from Quartzite for about 8 miles before motorists may leave the Interstate and continue eastward on US Highway 60. That's what I did.
At this point US 60 is two lane asphalt. The lanes are very wide but have a somewhat choppy surface and irregular asphalt shoulders best avoided at highway speed.
There are only a few small communities on US 60 before reaching Wickenburg AZ.
Wickenburg is in a hilly area, with welcome cuts and fills in this improved section of highway. Wickenburg is an old western town with a rich history. For example, a stone monument to the 1879 "Wickenburg Massacre" is west of town on US 60.
The vintage train station now houses a Visitor Center and the Wickenburg Chamber of Commerce. Wickenburg is a small town with a relaxed atmosphere. It has many historic buildings in a quaint downtown area. A few days here might do wonders for any stressed-out city dweller.
Leaving Wickenburg to the southeast, hill country quickly fades to high desert extending southeast to Phoenix, where I spent my first night.